SoftWheel
Ziv-Av "reinvents the wheel" for SoftWheel with world's most advanced suspension system
SoftWheel is a fast-growing startup that develops advanced in-wheel suspension technology to enhance personal mobility for wheelchair users. The company's patented technology and designs attract many leading global investors.
Ziv-Av develops concept to match SoftWheel's vision
SoftWheel came to Ziv-Av with an idea for a more efficient wheelchair. The vision involved a chair that would be both comfortable and vibration-free for the user.
Ziv-Av brought SoftWheel's idea to life by conceptualizing a design focused on creating remarkable wheels that were both comfortable and able to disperse impact energy. The design featured an unique in-wheel shock absorber system to provide a safe and stable ride for users.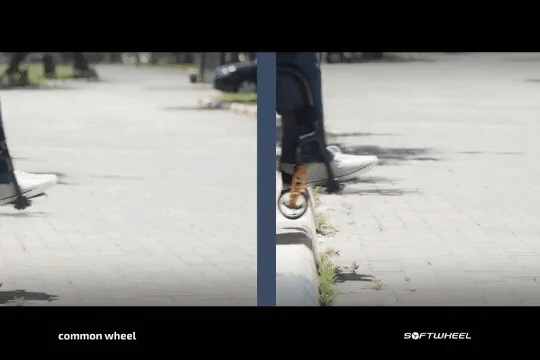 Ziv-Av's all-inclusive services realize concept and design for SoftWheel
After creating the initial concept, Ziv-Av experts developed a complete design for in-wheel suspension that included three bi-directional, preloaded suspension arms axi-symmetrically arranged.
The design also featured double-acting shock-absorbers that would work to provide a smooth riding experience on any type of terrain. The one-of-a-kind system would have the ability to keep the wheels rigid, whenever absorbing shocks is not necessary and during normal use, up to a pre-defined trash hold, meaning users would waste no unnecessary energy when pushing the chair.
Weight issues were of great importance and placed great challenges to cope withWith SoftWheel's vision as their guide, Ziv-Av engineers helped deliver a wheelchair with never-before-seen stability to the global market.
Ziv-Av's patented design sparks impressive growth for SoftWheel
After performing finite element analysis (FEA) simulations to achieve the best possible design, SoftWheel registered the shock absorption system for a patent.
The patented design encouraged some of the world's biggest corporations – including Honda, Permobil, NSK, Mitsubishi and Linamar – to enhance their own industries by investing tens of millions of dollars in SoftWheel technology.
With the help of Ziv-Av's design, SoftWheel startup has transformed into an international multi-million-dollar company.
Ziv-Av designs help turn companies into industry pioneers
As the international leader in state-of-the-art design, Ziv-Av has been empowering global businesses for 30 years. Our multidisciplinary services can take you from conceptual design to prototype and serial production and beyond – collaborating with you every step of the way.
Let us solve your toughest engineering challenges and help you take your business to the next level. Call us now to get started!
Make it Optimal. Make it with Ziv-Av.
Start your product design today.