Mazor Robotics
Ziv-Av engineers a medical cart for Mazor Robotics
Mazor Robotics is a leading manufacturer that pioneered a revolutionary robotic guidance system for spinal surgery. The company's innovative Mazor X Stealth platform combines advanced software with robotic technology, navigation and instrumentation for precise guidance in surgical procedures.
Ziv-Av creates a medical cart to help with spinal surgery
Mazor Robotics chose Ziv-Av to engineer a workstation which is a mobile cart, equipped with a balanced manipulator arm to move heavy surgical tools from the cart towards the operating table.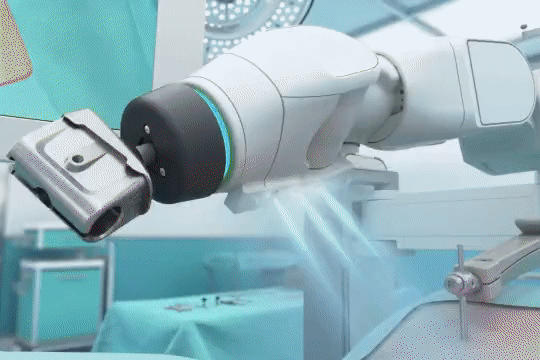 Ziv-Av designs the station containing all the tools
Ziv-Av's design enabled a portable workstation which can be moved to attach with a bed. The medical cart contains all the tools that are needed to perform the surgery.
Ziv-Av engineered the cart having the robot fixing facility and delivered a sophisticated design.
The design is a unique, bed-mounted robotic guidance system that lets you pull the workstation away from the operating table to minimize risk of crowding during the procedure.
Ziv-Av increases surgical precision, improves patient safety
Ziv-Av's all-inclusive design featured the design of covers, mechanics, manipulator arm and the structure of the product.
With an effective combination of hardware and software, the doctors can make the spine surgeries with highly accurate results.
The floating ability allows anesthesiology to maintain their locations relative to patients and provides the option to bring in or remove the workstation from the sterile field based upon procedural situation.
With Ziv-Av's critical motion design, the jig can float to the desired position and does not feel heavy.
Ziv-Av's top-notch design helps achieve impressive growth
Ziv-Av played its part with the value added design of the mobile medical cart, helping spearhead major growth for Mazor Robotics. The breakthrough Mazor X Stealth Edition made Mazor Robotics so successful, the company was sold to Medtronic for a huge amount of $1.6 billion.
Ziv-Av offers efficient designs to medical industry leaders
With 30 years of experience and hundreds of satisfied customers in the medical industry, Ziv-Av launches products with higher market adoption. We use an integrated process to create medical products that are thoughtfully designed to ISO specifications and approved, produced and delivered to market faster.
ISO13845 (QMS for medical devices) certified, we are focused on quality and we can fulfil the ever-stricter and highly accurate requirements within the Medical industry.
Put your product engineering in the right hands. Get started on your next project with Ziv-Av today!
Make it optimal. Make it with Ziv-Av.
Start your product design today.